Fishing at The Old Quarry Betchworth.
This lovely 1 acre lake is located in surreys outstanding natural beauty hot spot, tucked neatly away under Boxhill it is 18 feet at its deepest has crystal clear waters nearly all year round and holds unspoilt fish some of which are specimen sizes. We run on a booking system and booking is essential for any type of fishing. Please find all prices on our price page this will also show deposits that are required for over night bookings and whole lake hire.
Currently the lake holds:
Carp up to 30lb
Tench up to 5lb
Roach and Rudd up to 3lb
Perch up to 3lb
Bream up to 15lb
Pike up to 18lb
OUR SWIMS.
There are five single swims with enough room for a single person to fish from and two large double swims.
LODGE BANK.
Lodge bank is a large double swim with easy access from the car park.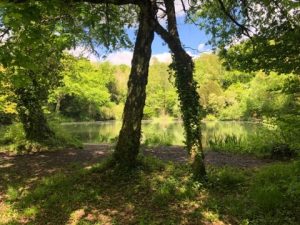 THE Hut
A small Hut to hire so you can enjoy your night fishing in true comfort, its a swim in itself as it hosts a jetty over the lake for you to fish from. The hut is found on the front bank of the lake in the far left corner it contains a single bunk bed and a sofa which can be folded down in to comfy double bed, bedding Is provided & there is now a lovely potbelly log burner inside the cabin which makes for a wonderfully warm fishing experience especially in the really cold months. *PLEASE NOTE THE HUT IS VERY BASIC AND IS JUST A STEP UP FROM A BIVVY THERE IS NO MAINS ELECTRIC AND YOU WILL STILL HAVE TO SHARE THE TOILET AND SOWER ROOM WITH OTHERS FISHING* PRICES CAN BE FOUND ON OUR PRICE'S PAGE.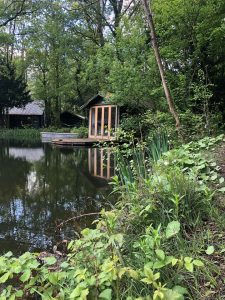 DOG DAVES CORNER.
This swim is a small single swim located on the far bank.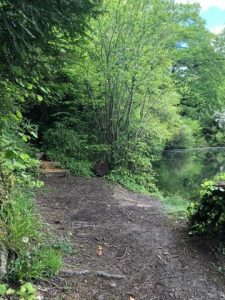 OAK TREE.
This is a small single swim in the far right corner of the lake under our beautiful oak tree.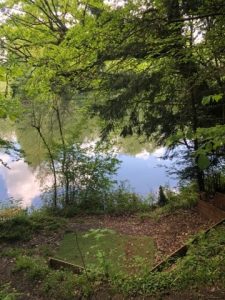 WITCH COVE.
Another of our large swims on the edge of the snags, a right sunny spot in the summer afternoons.
The SNAGS.
A single swim and one of our most popular fishing spot.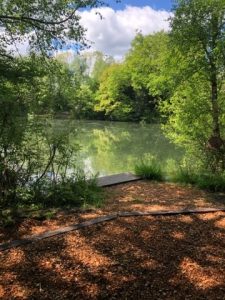 RODGERS VIEW.
A Large swim on the right located close to the car park this swim can hold two people and is a lovely spot to over look the lake.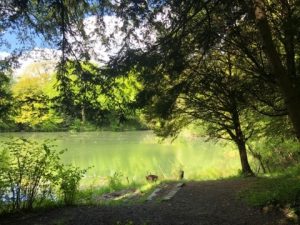 We have a few rules which you are asked to observe.
Barbless hooks at all times
Unhooking mats are to be use at all times
All fish to be returned immediately to the water
Please have respect for other fisherman by not playing music or making excessive noise
Dogs must be kept on leads at all times
Any rubbish must be taken with you when you leave
Single hook rigs only (pike fishing)
NO VISITORS UNLESS YOU HAVE INFORMED US BEFORE BOOKING.
Please note that if you are carp fishing cradles must be used, if you require one please ask as there will be one located at the lodge on the lake.
All rules must be applied. Consequences for not following rules could result in being asked to leave with no refund & in worst case being banned from the lake all together.
If you need more information then please do not hesitate to contact us.
Have a look at our Fishing Gallery Image